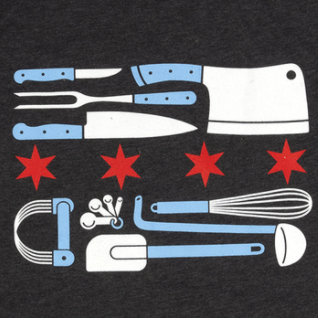 Chicago Chef Flag Sticker
Item from Transit Tees.

There's no shortage of amazing food in Chicago. From chefs to bakers and backyard grill masters this city is bursting with culinary talent! Whether you are a well-respected Chef, self-taught quarantine baker, or a proud foodie that can't hardly cook, show the world which city knows food best by putting our new Chicago Chef Flag Sticker on your laptop, water bottle, stash box, rolling tray, or anywhere else stickers go.

Size: 4.5" x 3" Rectangle.

Durable, weatherproof adhesive made to last.

UV Laminated to protect your sticker from scratches and the sun.

Designed by Transit Tees in Chicago's Wicker Park neighborhood.