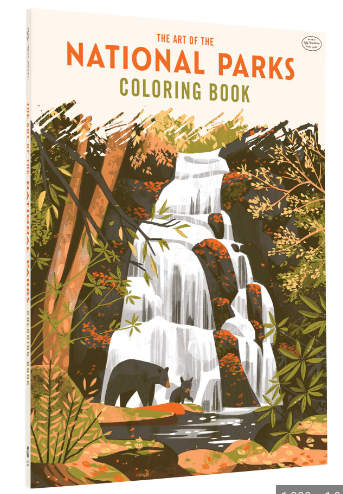 National Parks Coloring Book
Item from Simon & Schuster.
Ignite your creativity by coloring beautifully detailed images of the landscapes and landmarks of the US National Parks.
The Art of the National Parks: Coloring Book
 features poster-sized and stylized line-art renderings from the popular "Fifty-Nine Parks print series." Using a contemporary take on the famous W.P.A. posters of the 1930s, each coloring image is an original rendition of the artist's unique perspective on a park, resulting in one-of-a-kind illustrative tributes to the majesty of each national park.
GORGEOUS ARTWORK: 
Fifty-Nine Parks collaborated with some of the world's foremost contemporary artists and designers to create original posters that celebrate the unique beauty of the US National Parks
FASCINATING FACTS
: Each poster is accompanied by a brief description of the park
EVERY NATIONAL PARK INCLUDED
: Art includes all 63 US National Parks, including the Great Smoky Mountains, Yellowstone, Zion, Rocky Mountain, Grand Teton, Grand Canyon, Cuyahoga Valley, Acadia, Olympic, and Joshua Tree
INSPIRING IMAGES
: Each poster contains a full-color image of the park at the back of the book to provide inspiration and direction for your choice of colors to use