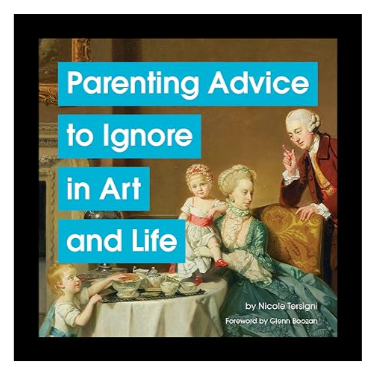 Parenting Advice Book
Item from Chronicle Books
From in-laws and other parents to complete strangers and even your own kids—when it comes to parenting, everyone's a critic. Against the classic backdrop of fine art, bestselling author Nicole Tersigni's 
Parenting Advice to Ignore in Art and Life
 pokes fun at the many "experts" who think they know more than you about your own children. Utterly (and unfortunately) relatable and hilarious as ever, Tersigni's spot-on captions provide a much-needed laugh for anyone who has had the pleasure of parenting and the pain of having a stranger tell you to put a hat on your baby. 
A HILARIOUS GIFT FOR MOMS & DADS: Whether gifting for expecting parents, new parents, or experienced parents whose adult children steal their toilet paper on visits home, this book is the perfect present for anyone who's ever had to console a crying baby on a flight while getting side-eyes from childless onlookers. 
RELATABLE HUMOR IN ART: These universal pieces of unsolicited advice will make any parent laugh when they need it the most! A winning option for anyone seeking stocking stuffers for women or men or novelty gifts for anyone who appreciates family humor.
Dimensions ‏ : ‎ 

6 x 0.5 x 6 inches