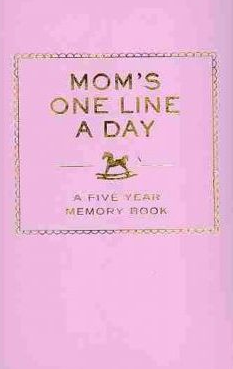 Moms One Line A Day Book
Item from Chronicle Hachette.
Keepsake, Mom's One Line A Day, 5 Year Memory Book
Keep those memories, thoughts, hopes and dreams for your baby in one convenient place. Life gets busy, and definitely even more busy with little ones!  This little journal will help you jot down those precious memories, the little moments that could otherwise be forgotten.  It allows you to just take a few moments to jot it down quickly, to treasure the every day joys of motherhood, then compare or look at what memories you had on the same day, the following year.  Do this for 5 years and be able to cherish this book for a life time!  
When life gets busy, it's easy to forget all the amazing "little" moments, comments, etc.  This sweet little keepsake journal will help and can be passed down for generations.  Perfectly sized to keep with you wherever you go.
Book measures approx. 4" x 6.5"
Each page comes with a space for a quick note and line.  Enter in the year.  Ruled and gold bound pages with a ribbon to keep your place.